The Story Place is a vibrant and colourful space with plenty for kids to do. As well as sharing the great selection of books for children from 0 – 8 years, families are welcome to come and look at the original artworks, sing a song, play a rhyming game or spin their own story starter.
You're never too young for a library card here! A library card is one the best gifts a parent can give their child. It allows free access to books to feed their imagination and knowledge of the world.
This is the perfect place for children to discover favourite authors and illustrators and explore their interests and hobbies. Get your child their own library card today – they can join at any age, even as a baby!
See you on the Mezzanine Level!
Activities at The Story Place
For individual dates, times and events at The Story Place, go to What's On.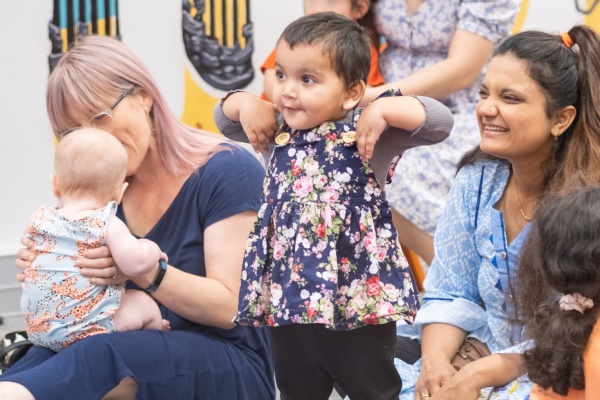 Weekly on Wednesday at 10:30am
Interactive story fun for pre-schoolers and their carers. Followed by a half hour Play Time where families can explore literacy and learning through reading, talking, singing, writing and playing together.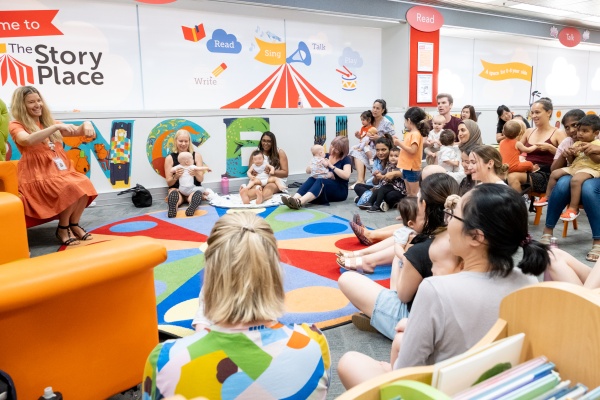 Weekly on Friday at 10:30am
Songs, rhymes and stories for babies and their families, followed by an hour of Play Time to help develop early literacy and learning skills.
Visiting The Story Place
The Story Place is open any time the library is open. The Mezzanine Level is up one flight of stairs or by pressing M in the lift.
Prams and bags are fine in The Story Place. There are no toilets at The Story Place – baby change rooms are located on the ground floor in the Discovery Lounge. Ask for the key from the friendly Welcome Desk staff. Toilets are also on the ground floor in the foyer near the coffee shop and on the other floors of the library.
Snacks for children can be eaten at The Story Place, but no nuts. For lunch, find a spot on the Ground Floor in the Discovery Lounge or outside the building.
Children must be supervised by an adult who is responsible for them at all times. Please leave The Story Place tidy when you leave.
We ask that adults visiting The Story Place are accompanied by a child. However, if you would like to look at the books or artwork and don't have a child with you, please inform the Welcome Desk staff.