Who is that mysterious figure disappearing in the night?
Old Tom was Leigh Hobbs' first children's book character. He wanted to create something different from the "goody-two-shoes" characters he saw in other children's books. Scruffy, messy, naughty but very loveable! Children relate to Old Tom because, everyone is a bit scruffy, messy, and naughty sometimes, too!
Leigh Hobbs has generously donated, among other beautiful pieces, the original and draft materials for the picture book, Old Tom Man of Mystery (2003) to the State Library of Western Australia's Peter Williams Collection of exemplary artwork from Australian picture books.
Working in pen and ink, gouache and acrylic colour, Hobbs' colourful characters jump from the page to instantly engage and delight. See examples below.
Leigh Hobbs
Leigh Hobbs is a multi-award-winning author and illustrator known for his colourful characters, bold colour palette and humorous picture books. He is best known for his children's books featuring his characters Old Tom, Horrible Harriet, Fiona the Pig and Mr Chicken, as well as the Freaks and their teachers in 4F for Freaks and Freaks Ahoy. Old Tom has been adapted into an extremely popular TV series.
Leigh has three times been shortlisted for the CBCA Picture Book of the Year Award (for Mr Chicken Goes to Paris, Horrible Harriet and Old Tom's Holiday) and his books have won every major children's choice award in Australia. Leigh's books are published by Allen & Unwin. Leigh Hobbs was the Australian Children's Laureate, 2016-17.
In a video below, hear Leigh Hobbs talk about his inspiration and his writing and illustrating process.
View more about Leigh's illustrations in the State Library collection through the catalogue.
Old Tom: Man of Mystery, an exhibition of Leigh Hobbs' artworks, runs at the State Library from 23 September to 4 December 2022.
Original artwork, character studies, postcards and draft materials
Skip slider
Q&A video with Leigh Hobbs
You may be interested in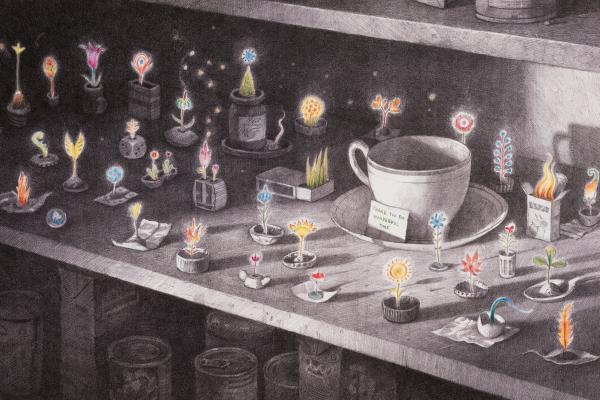 With illustrations dating from 1920 to the present day, the Peter Williams Collection collection showcases the artistry and diversity of Australia's picture books. Discover highlights, exhibitions, interviews with creators and materials about the illustration process.