A 'perfectly posh pink afternoon tea' soon becomes a 'marvellously messy mud bath of fun!' in Coral Vass and Gabriel Evans' book, A Perfectly Posh Pink Afternoon Tea. Gabriel Evan's original draft sketches, storyboards and final artwork for the story are part of the State Library's collection of artwork from Australian picture books.
Evans's illustrations for Perfectly Posh are playfully rendered with watercolour, gauche and ink in high key colour with abundant use of pattern and line. Drafts ranging from colour tests to storyboard sketches, provide insight into the art of picture book making. See examples below.
A Perfectly Posh Pink Afternoon Tea by Coral Vass and Gabriel Evans is published by Koala Books, an imprint of Scholastic Australia, 2017.
Gabriel Evans
Gabriel Evans is a Western Australian children's book author and illustrator. Working primarily in watercolour and pencil he creates books from a small studio near a river, surrounded by oak trees.
He grew up in a country town in the Southwest of WA. At the age of 14, he started his art career as a cartoonist for a newspaper and picked up his first book contract with an indie publisher at the age of 17. He has since teamed up with acclaimed Australian and USA authors and received two notable Children's Book Council of Australia (CBCA) Book of the Year nominations.
Gabriel has published with some of Australia's loved publishers including Penguin Australia, Hardie Grant Egmont, Scholastic and Walker Books. His recent titles include A Human for Kingsley and Norton and the Bear.
In a video below hear Gabriel Evans talk about his inspiration, how he creates and working as author and illustrator.
View more of Evan's illustrations in the State Library collection through the catalogue. See an original illustration from Captain Sneer (PWC/267) and more Perfectly Posh artwork (PWC/268).
Looking for more classroom resources check out Time for Tea in the Educators section of the website.
Perfectly Posh! an exhibition and make-believe tea party based of Gabriel's work runs at the State Library from 21 February to 18 April 2022.
Draft sketches, story boards and colour trials
Skip slider
Q&A video with Gabriel Evans
You may be interested in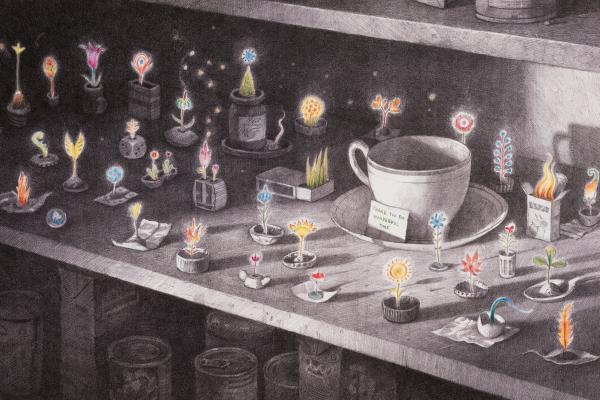 With illustrations dating from 1920 to the present day, the Peter Williams Collection collection showcases the artistry and diversity of Australia's picture books. Discover highlights, exhibitions, interviews with creators and materials about the illustration process.