Immigration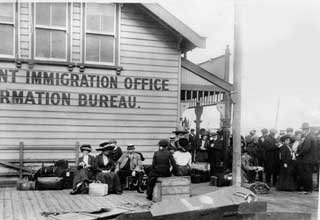 Fremantle Immigration Office 1911
Before the Commonwealth of Australia came into being in 1901, immigration to Western Australia was the responsibility of the Western Australian Government. Early references to immigration can be found in Colonial Secretary's Office records, and can include passenger lists, naturalisation documents and files relating to aliens.
After 1901, immigration became a Commonwealth responsibility and records relating to immigration for this period can be found at the National Archives of Australia. The State Library and the State Records Office have microfilm copies of passenger lists from 1897-1963 (State Library - Fremantle 1897-1963; State Records Office – Fremantle up to 1915 and Albany up to 1932).
The records listed below are immigration records which are, in the main, not part of any agency series. For other records which can relate to immigration check under the headings Aliens, Asian People, Child Evacuees & Migrants, Colonial Secretary's Office, Naturalisation, Parkhurst Boys and Passenger Lists in Government Archival Records and Asian People, Child Migrants, Parkhurst Boys and Passenger Lists in Private Archives.
AU WA S4650: Documents relating to nominated immigrants 1891-1898
They include application forms, Agent General's letters, files and general correspondence. Forms provide name, marital status, age, place and date of birth, occupation, religion, details of previous employer and sometimes letter of recommendation from previous employer.
AU WA S2399: Department of Immigration. Nominal Indexes 1916-1929
Contains alphabetical list of immigrants.
AU WA S2399 cons569 1: Department of Immigration. Register of inmates at Immigrants Depot arriving by Orient Line vessels 1908-1910
Provides name, age, ship, date of admission and departure from Depot, and point of destination.
AU WA S1243 cons633 1: Lists of immigrants by certain ships 1876-1877
Ships are the Fitzroy (1876), Hastings, Helena Mena, Lady Louise, Daylight, Robert Morrison (all 1877). The lists provide name, date of arrival in WA, age, sex, date of agreement.
ACC 1193: Department of Immigration
Some files in this sequence contain references to such matters as Jewish children, nominated immigrants 1911, Irish unnominated immigrants and Maltese children. Names are given. Boxes 5-7 contain Nominal Rolls of Immigrants 1947-1962. Ships listed in chronological order of arrival. For each ship immigrants are listed in alphabetical order showing age, religion, occupation, nominated category, name and address of nominator (see AN 228 for listing).
ACC 3298/1-3: Perth Police Court. Nominated Immigration 1861-1863
Forms provide name, occupation and residence of nominator and name, age, marital status, residence in UK, references and relation to applicant of nominee(s).
AU WA S1317 cons5011 1-5: Noalimba Reception Centre. Admission Cards 1976-1986
These cards were completed on admission of migrants to Noalimba Migrant Reception Centre. Arranged alphabetically, the cards show names of migrants, names and ages of their children, occupation, how arrived, e.g., by air, date of arrival, name of bank, address when left Noalimba. Also shown are comments by interviewers recording problems, assessment, etc. On the reverse of the cards are the migrants' assessments of the Centre's facilities. The cards follow the progress of migrant families from their arrival at the Centre to their departure and sometimes subsequently if problems were encountered or assistance needed.
AU WA S1319 cons5008 1: Noalimba Reception Centre. Register of Departures 1977-1978
Shows names, date of departure and address.
Please also consult the State Records Office website guide – Passenger Lists and Immigration Records. The guide is meant to provide an indication of the scope of information held in the State Records Office, and is not exhaustive.