Dead Reckoning: a guide to family history research in WA
If you are a novice family historian just starting out tracing your family tree or an experienced genealogy researcher looking for whatever happened to the elusive great uncle, Dead Reckoning is your handbook to family history research in Western Australia.
Use the links on the left to navigate through the online publication.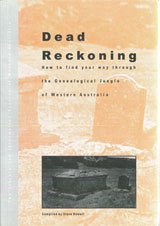 Dead Reckoning: how to find your way through the Genealogical Jungle of Western Australia (compiled by Steve Howell) was first published in 1997. It was an update of the 1983 Library Board of Western Australia publication: Tracing your ancestors: a guide to genealogical sources in the J.S. Battye Library of West Australian History.
Since 1997, the State Library of Western Australia and the State Records Office have received new material of interest to anyone undertaking genealogical and biographical research. As well, many relevant internet resources have been developed. Following a grant from the Sholl Bequest (administered by the Friends of Battye Library Inc.), it was decided to revise and publish the book online, so it can be regularly updated as appropriate resources and material are found.
The online publication is divided into various sections, which can be accessed by clicking on the links to the left. The first section covers how to begin, legal deposit, copyright, publishing and has a list of books of value to the starting genealogist. It is followed by a history of the J.S. Battye Library & State Library of Western Australia and then sources held by the State Library which have information on people. Books are grouped under subject headings; serials and ephemera listed by individual work or series; private archives are grouped under subject headings; and for newspapers, oral history, maps, photographs, and film, video and DVDs, general information on what can be found in each has been noted.
The next section details indexes and catalogues useful for locating information on people (card, microfiche, or online), either produced by the staff of the State Library and the State Records Office or by external agencies such as FamilyHistoryWA, the Metropolitan Cemeteries Board, the Registry of Births, Deaths and Marriages. These are grouped under subject headings.
Then comes a history of the State Records Office and a listing of government records of interest. All hard copy listings of records and all series currently on AEON, the State Records Office online database, were examined and those which had names were extracted. This does not mean all useful government sources are included, as people's names can appear in any record. Government records are grouped under subject headings.
Finally there are details of sources useful for genealogical research held by the State Library of Western Australia, specifically relating to other Australian States and overseas (especially New Zealand and the British Isles), details of other institutions, agencies and organisations which may hold information on people in Western Australia and a guide to abbreviations.
The reader is welcome to print any part of the publication.