Passenger Lists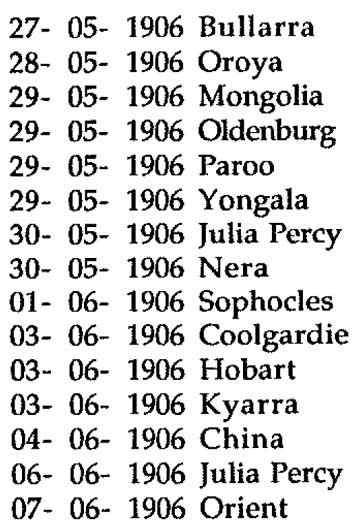 Chronological Index to Ship Arrivals 1898-1963
The Battye Library holds inward passenger manifests for ships and aircraft arriving at Fremantle and Perth Airport 1898-1963 on microfilm. The ships (1898-1963) and aircraft (1944-1963) manifests are interfiled and arranged chronologically by date of arrival. Two indexes, one chronological and one alphabetical by name of ship, are held by the Battye Library. Please note: during 1944 and 1945 a number of military flights ferried passengers and military personnel into Perth. These flights were usually Consolidated PBY Catalinas (flying boats) or Consolidated B-24 Liberators (heavy bombers) which are denoted by a 5 letter call sign, e.g., G.AGUK, G.AGFM etc.
Over the last few years the National Archives of Australia has been indexing passenger arrivals to Australia for the period 1 January 1921 to 15 January 1950 (1944 to 15 January 1950 for aircraft). This index can be searched online. For the period after this it is sometimes possible to locate the names of passenger arrivals by doing a general records search. This will list records (often naturalisation) relating to the person and may note the ship and date of arrival. If this type of search does not yield results, searching the National Archives for the records mentioned in the passenger arrivals index may prove fruitful.
Also see heading Passenger Lists in Government Archival Records.