Passenger Lists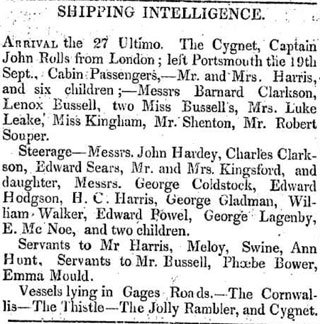 Passenger List Perth Gazette 02 February 1833
Early passenger lists appear in Colonial Secretary's Office records (1829-1878) and in newspapers (lists sometimes only provide the names of cabin passengers, but not steerage passengers). They have been indexed up to the year 1890 (see Arrivals in section Indexes and Catalogues). There are also several distinct series of passenger lists, generally for the post-1890 period, which are useful for searching for the names of people arriving in Western Australia.
Albany
ACC 108: Port of Albany. Unbound lists of arrivals and departures for the port of Albany 1873-1932
This series, which contains the names of passengers and crew, is divided into 4 sequences: (1) Vessels to and from Overseas; (2) Vessels to and from Eastern States; (3) Vessels to and from Fremantle; (4) Coastal Vessels inwards and outwards. Overseas passenger lists are indexed for 1873-1925 and some eastern states passenger lists are being indexed (see section on Indexes). A listing of this series can be found in AN 371.
ACC 110/1-6: Port of Albany. Registers of outward passengers 1888-1890, 1895, 1903-1923
Alphabetical list providing date of departure, name of ship, where bound.
ACC 111/1-14: Port of Albany. Register of inward passengers 1888-1922 (except 1896)
Alphabetical list providing date of arrival, name of ship, port of embarkation, where bound.
Esperance
ACC 113: Port of Esperance. Register of inward passengers 1893-1896
Chronological list of persons arriving by sea or land showing vessel, date, port of embarkation. Register of departures 1895-1896. Chronological list showing vessel, date, destination.
AU WA S781 cons781 2-3: Esperance Police Station. Occurrence Books 1888-1894
Names of passengers arriving included.
ACC 782: Esperance Police Station. Index to arrivals and departures 1899-1903
Provides date of arrival or departure, name of ship, where bound or where from.
Fremantle
ACC 115: Colonial Land and Emigration Commission. Lists of emigrants 1851-1867
This is the only series which provides any form of English or Irish origin as it sometimes denotes county of origin.
ACC 128: Convict Department. Lists and physical description of convicts 1850-1868
ACC 457: Port of Fremantle. Passenger list arrivals and departures for Fremantle and Outports 1898-1915
Has inward and outward from Fremantle to both overseas and the Eastern States and inward and outward from other ports in Western Australia.
ACC 503: Colonial Secretary's Office. Passenger and crew lists, manifests inwards for Fremantle 1880-1897
Not many lists are held for the 1890-1898 period as Fremantle Harbour was silted up and undergoing dredging – in this period the majority of ship went to Albany.
AU WA S1243 cons633 1: List of immigrants, prepared by W. Dale (immigrant agent) and ships (Fitzroy,1876; Lady Louise, 1877; Hastings, 1877; Daylight, 1877; Helena Mena, 1877; Robert Morrison, 1877)
Lists for the Fitzroy (1876), Hastings , Helena Mena, Lady Louise, Daylight, and Robert Morrison (all 1877).
AU WA S2084 cons5000 657: Passenger lists inward from overseas 1829-1830
Formerly Lands and Surveys Red No. 657
AU WA S1671 cons5224 1-19 : State Shipping Service. Passenger lists for State Shipping Service voyages
Lists for the Delamere 1958-1971; Dorigo 1947-1969; Dulverton 1948-1971; Koolinda 1948-1957; Kangaroo 1962-1973; Koolama 1958-1973; Koojarra 1956-1971; Kybra 1947-1957; Kabbarli 1951-1971; and Yarrunga , Daylesford , Wangara , Denman , Marra and Dongara 1957-1972.
National Archives of Australia (W.A. Branch)
Inward Passenger manifests for Ships and Aircraft arriving at Fremantle and Perth Airport 1898-1963 are held in the Battye Library (further microfilm copies of passenger lists will be received as they become available). The passenger lists are arranged in chronological order of arrival of ships 1898-1963 and aircraft 1952-1963 interfiled (note: during 1945 a number of military flights ferried passengers and military personnel into Perth - these were usually Catalinas or Liberators which are denoted by a 5 letter call sign, e.g., G.AGUK, G.AGFM). Two indexes, one chronological and one alphabetical by name of ship, are held by the Battye Library.
Some passenger arrivals appear in Agency series, such as Police Station records of people arriving at a particular place by ship, road or rail. Most of these records only provide the name of the person, date of arrival, ship arrived on (if by sea) and occasionally where from. If the record is a Police Station Occurrence Book, then the names of passengers will be in the entry for the day of arrival. Some Books also note travelers passing through the town or district.
Albany
AU WA S3240 cons364 1-45 : Albany Police Station. Occurrence Books 1863-1902
After 1872 arrivals and departures of ships are generally recorded. During the period 1872-1873 the names of some overseas passengers arriving are noted and some record of people travelling between Albany and Perth by the mail coach. From 1883-1894 there are full passenger lists, but from 1894 on only a note of the number of passengers carried. In these later years there is often a record of the arrival by train of Members of Parliament, government officials, and notable people by ship.
ACC 1386/174a: Perth Police Court. Alphabetical record of inward passengers July-October 1895
Busselton
ACC 410: Busselton Police Station. Occurrence Books 1860-1934
Some names of passengers by ship and mail van are included (see AN 5/Stations for listing).
AU WA S1596 cons594 1/82: Resident Magistrate Busselton. Diary of events 1855-63, 1875-76
Contains names of visitors to town.
AU WA S1593 cons594 8/1-39 : Resident Magistrate Busselton. Inward and outward manifests for ships at the port of Busselton 1851-1900
Provides name of vessel and tonnage, name of captain, number of crew usually stated and names of any passengers. From 1851-1881 only one series of inward and outward manifests filed in chronological order. From 1882 occasionally three series - inward, outward, inward and outward manifests of coasters (all 3 series filed chronologically). The groupings are not always adhered to and there is some confusion in filing. From 1891 shipping reports and manifests for the port of Hamelin are included.
ACC 3315/1-16: Busselton Water Police. Inward and outward shipping, crew and passenger lists 1873, 1875-1876, 1882, 1885, 1888-1894, 1896-1903
See AN 5 Stations/Busselton for listing.
Carnarvon
Denham
Dongara
Esperance
Quindalup
ACC 425/1: Quindalup Police Station. Occurrence Book 1870-1878
Arrivals and departures of ships recorded from 17 September 1871 and passengers names are given. Travelers are reported from 18 June 1873.
Vasse see Busselton
Wyndham
ACC 741/1: Wyndham Police Station. Occurrence Book 1886-1888
Shipping arrivals and departures given, but no passengers listed before July 1887.
Please also consult the State Records Office website guide – Passenger Lists and Immigration Records The guide is meant to provide an indication of the scope of information held in the State Records Office, and is not exhaustive.