Parkhurst Boys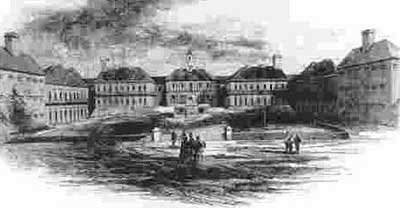 Parkhurst Prison 1820
The Parkhurst boys were juvenile offenders from the Isle of Wight's Parkhurst Prison, who were transported to the Australian and New Zealand colonies between 1842 and 1861. The boys were to be granted pardons under certain conditions such as permanent exile from England and, in the case of younger boys, undertaking apprenticeship in the colonies. 1,499 boys are recorded as being sent to the colonies where, particularly in New Zealand, the scheme was seen by some as de facto convictism. In Western Australia, the need for labour at that time appears to have made the young exiles acceptable.
In 1984 Paul Buddee produced a book on the Parkhurst boys Fate of the Artful Dodger: Parkhurst boys transported to Australia and New Zealand 1842-1852 (364.36 BUD). He deposited his research material, including lists of all 1,499 boys and their personal details, with the Battye Library. A detailed listing of this material (ACC 3693A, 3694A, 4233A) can be found at MN 1214.
Also see heading Parkhurst Boys in Government Archival Records.