Supreme Court of WA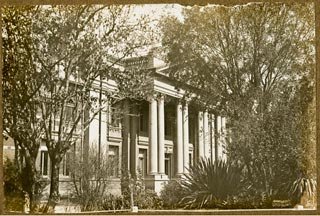 Supreme Court of WA c1928
The Supreme Court of Western Australia (see AU WA A44 for a list of series held) is a superior court of record and the records of its proceedings have been preserved since the establishment of its predecessors in 1830. The Court of Quarter Sessions sat from 1830 in Fremantle and from 1837 in Perth, the Civil Court was established in 1832 and the Supreme Court in 1861. Thus its jurisdiction has covered a number of areas over the years and the records transferred to the State Records Office cover a broad spectrum of the Court's activities. The Supreme Court records include files and volumes relating to:
Wills 1832-1947 (grants of probate or letters of administration)
Divorce 1864-1976
Bankruptcy 1858-1928
Civil and criminal cases 1830-1953
Naturalisation 1871-1903
Newspaper proprietor registrations 1881-1986
Conscientious objectors 1916-1955
The State Records Office has produced a guide to the records of the Supreme Court called Order in the Court: a guide to the records of the Supreme Court of Western Australia which includes a description of each of the series, the statutes involved and the place of the records in the working of the legal processes. Wherever possible lists of items are included to assist researchers in locating a required volume, file or document.