Settlers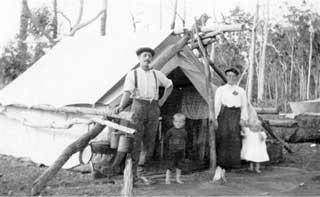 Settlers 1920s
Police Station Records often include the names of settlers visited by the police in the course of their duties, especially late in the 19th century and early in the 20th century. These records generally include the name of the settler, occupation, place of residence, date of visit, by whom visited and the number of miles from the Police Station. Other reports of visits may be found in Police Department unregistered files in AU WA S2381 Unregistered Correspondence cons129 and AU WA S4068 Subject Indexes cons430. Records found are:
Albany
Dongara
Esperance
Fields Find
Gingin
Greenough
ACC 385/21: Greenough Police Station. Register of settlers visited 1893-1903
Guildford
ACC 240/26: Guildford Police Station. Register of settlers visited 1888-1897
Katanning
Mingenew
Mount Barker
Newcastle
Newcastle see also Toodyay
Northam see Toodyay
Stanton Springs
ACC 371/6: Stanton Springs Police Station. Record of settlers visited 1873-1875
Toodyay
ACC 422/14: Toodyay Police Station. Rough Occurrence Book 1902
Includes index to settlers in Newcastle, Northam and Victoria Plains, also list of men and women over 21 in 1899.
ACC 422/75-76: Toodyay Police Station. List of settlers visited 1872-1877, 1883-1894
Vasse
ACC 3313/56: Vasse Police Station. Settlers visited 1869-1871, 1894-1895
Victoria Plains see Toodyay
Williams
ACC 1242/1: Williams Police Station. Settlers visited 1885-1893
CONS 129/V18: Police Department unregistered files. Register of settlers in the Williams district 1894
Shows name of settler, residence, occupation, nationality, marital status, etc.
York
ACC 1141/78: York Police Station. Return of settlers visited 1868-1879
ACC 1141/81: York Police Station. Alphabetical list of settlers 1878
Youndegin
ACC 1440/1: Youndegin Police Station. Occurrence Book 1887-1888
Includes return of settlers visited 1884-1885.