Pensioner Guards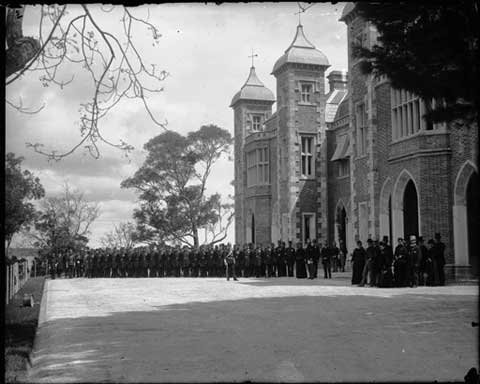 Pensioner Guards Government House c1887
The Pensioner Guards (also known as the Enrolled Pensioner Force and after 1880 as the Enrolled Guards) consisted of those soldiers who came as guards on the convict ships which transported nearly 10,000 prisoners to Western Australia in the years 1850-1868. The number of soldiers, along with their wives and children, totaled some 2,500. Many of them remained on as settlers after they had completed their military duty. Having served in China, Crimea, South Africa, India, Persia, New Zealand and Afghanistan they were awarded pensions for long service, good conduct, wounds received, or meritorious service. After arrival they could continue with military duty or remain as settlers. After serving seven years in the Enrolled Pensioner Force they were eligible to a free land grant. The chief source of information on the Pensioner Guards is F.H. Broomhall's The Veterans. Other records which may prove useful are:
AU WA S2126 cons129 30/092: File showing the names of the Enrolled Guard stationed at Perth and Fremantle 1880
AU WA S3638 cons144 1-2: Records of the Enrolled Guard
List of men in barracks at Fremantle and Perth 1881 (the location of further lists is unknown).
ACC 473/34: Treasury Department. Pensioners' Land Book
This volume contains a roll of Pensioners who had not received land until 1881 and records of Pensioners' allotments in various districts with date of acquisition of fee simple 1881-1884. Details include name of Pensioner, regiment, pay rate, rank and details of land (a transcript of this volume can be found at the end of AN 158/5).
AU WA S1136 cons628 1: Alphabetical list of Pensioners, with their wives and families, who came to Western Australia on the Minden in October 1851
Provides name, age, pension, rank, regiment, remarks, births and deaths on voyage.
AU WA S1839 cons1206 1: Photocopies of land grants made to members of the Enrolled Pensioner Guard in the Victoria District 1872, 1874-75
Includes typed index.
AU WA S1308 cons4892 1: Lands and Surveys Department. Register of Pensioner lands 1850-1889
Shows location, name of holder, dates of assignation and issue of title, and title deed number.
AU WA S1839 cons5000 37/5-7: Lands and Surveys Department. Enrolled Pensioner Applications
File consists of applications by members of the Enrolled Pensioner Force both for town lots and crown grants. They are arranged alphabetically and generally contain such details as the name of the Pensioner's former regiment, his rank and amount of his pension.