School Children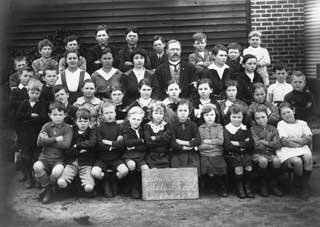 Gnowangerup State School 1918
Attendance or admission records can be located in AN 45/Schools, the Series Registration System or in the State Records Office catalogue under the name of a particular school. These will generally provide details on the children, such as name, address, age, name of parents. Other records may provide children's names, such as school journals, punishment books, headmaster's reports.
The Schools Index (a card index), under the name of each school, lists files such as establishment files, buildings and works files and attendance files. Attendance files are generally about non-attendance at schools or various matters relating to attendance, so they may provide the names of children (they are not an attendance record for the school, however), parents, and teachers (usually through correspondence relating to attendance); buildings and works files generally relate to the maintenance of a school (repairs, new buildings, accommodation, etc.) and establishment files to the beginning of a school, so they may provide the names of teachers and parents.
Admission forms, cards and registers for various schools will show the name of the student, date of admission, student's address, date and place of birth, names of parents/guardians and their occupations, religion, school last attended and synopsis of immunisation, medical history etc. For a list of schools with admission registers held by the State Records Office see Neville Green's Government School Created Records in Western Australia 1891-2005.
Consult the metropolitan or county schools listing for an alphabetical list of schools with admission forms, cards or registers.
Also see heading School Children - Hale School in Private Archives.