State Records Office
History
James Sykes Battye, chief librarian of the State Library 1894-1954, was aware of the importance of preserving archival and published records and he began collecting local material for the Library. In 1903 he acquired the early records of the Colonial Secretary's Office and early Western Australian newspapers, and later collected other records while compiling his various publications.
In November 1923 a Public Records Committee was appointed. The committee and its successor, the State Archives Board, comprised Dr Battye as Chairman and two departmental representatives. Much of the early work of the Board involved collecting or copying private manuscripts. In 1930 a Premier's Directive was issued (re-issued 1934 and 1943) requiring Executive Council and Archives Board approval before departmental records could be destroyed.
In March 1945 an Archives Branch was formed with Mollie Lukis as the first Archivist. On 14 December 1956 the Archives Branch took over all Western Australian material as the J. S. Battye Library of West Australian History and State Archives. In 1971 Margaret Medcalf took over from Mollie Lukis as the Principal Librarian of the Battye Library and State Archivist. The Library Board Act was amended in 1974 to make the Board responsible for records management, selection of records for preservation and organisation and arrangement of those records.
In May 1988 the State Archives split from the Battye Library and became a Directorate of the Library and Information Service of Western Australia, but they continued to operate a combined reading room until the opening of the Archives Search Room on 1 July 1991. On 1 July 1995 the State Archives was renamed the Public Record Office and on 1 July 1996 the Battye Library assumed responsibility for the acquisition of private archives. In 2000 the State Records Act was passed establishing the State Records Office (named in April 1999) as a separate entity reporting to its own Minister. A brief history of the State Records Office can also be found on their website.
Overview
The State Records Office is responsible for providing records management and archival services to government agencies, preserving archival records and providing reference services for researchers.
The Collection
The State Records Office collects, preserves and stores non-current government archives created by the Colonial and Western Australian State Governments and local authorities. Records may be kept to satisfy an agency's legal, fiscal or administrative requirements, or for their historical or evidential value. Government archives include files, registers, journals, maps, plans, architectural drawings, documents, sound recordings and electronic records. Some records are microfilmed or scanned to improve access and to preserve them for future generations. Most records are available for research purposes. For restricted access records, permission to access needs to be obtained from the controlling agency. The State Records Office's Accessing the State Archives Collection page, will provide the researcher with an idea on how to obtain records.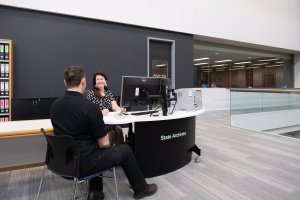 Reference Services
State Records Office staff are on duty to answer enquiries and to locate material. Their Research using State Archives page, a collection of guides to popular topics for the new researcher. Staff will answer straightforward reference queries, but if prolonged research is required, you may need to book an appointment with staff, or a researcher may need to be employed. The State Records Office also provides a number of specialised finding aids and indexes which will assist the researcher to locate appropriate records.
To view original archival records one must obtain a State Library / State Records Office Membership Card. This involves completing a form, showing proof of identity such as a driver's licences and agreeing to abide by the State Library / State Records Office's Leah Jane Cohen Reading Room terms and conditions of use. Your State Library / State Records Office Membership Card must be produced each time records are requested. School students can access microform, photocopy or transcript copies of original records and original archival records under supervision.
A digital camera and copy stand is available for researchers to make digital copies of records, or researchers may bring their own. Please note that flash photography is not allowed. Oversize material, such as maps and plans may be scanned, to provide a quality copy.
Opening Hours
The State Library / State Records Office Leah Jane Cohen Reading Room is open Monday to Thursday 9:00am - 8:00pm; Friday 9:00am - 5:30pm; and, Saturday - Sunday 10:00am - 5:30pm. To view original State archives, you must pre-order them ahead of viewing. Retrieval services for State Records Office items are available Monday to Friday (excluding public holidays).
Requests for archives must be made by 4:00pm on the day before you wish to view items. Items are made available by 11:00am Monday to Friday. Requests made on weekends will be processed the next week day. There is a limit of 10 items for each daily retrieval per researcher (comprising 5 items for records held onsite and 5 items for records held offsite. State archives held off-site comprise some maps / plans and records with a consignment number higher than 5707).
You can make requests for archives to be retrieved by using our catalogue or by completing and submitting call slips in the 3rd floor Leah Jane Cohen Reading Room. Should you need assistance identifying or ordering State archives, State Records Office staff on the 3rd floor can assist you. Alternatively, please email sro@sro.wa.gov.au.
Records
Visit Government Archival Records to view a subject list of records which may be of interest to the genealogist.