Other Australian States and Overseas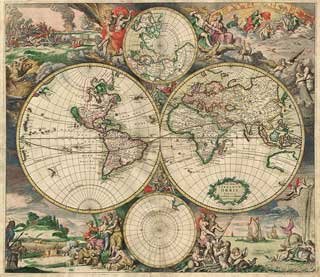 World map 1689
The State Library of Western Australia's genealogy collections, which are located on the first floor of the State Library, contain many resources (hard copy, microform and electronic), which can be of help to the researcher tracing people in the other states of Australia and overseas. Some resources are listed in the 1987 Library Board of Western Australia publication A guide to the genealogical collection of the State Reference Library of Western Australia.
Since this publication was produced the collection has greatly expanded and with the advent of online databases and websites, many more resources are available to the genealogist.
The State Library, on its Family History page lists guides to countries and regions, general subject guides and guides to collections and services. This page will greatly benefit the genealogist and will give the beginner many ideas about how to start to research a family tree and how to broaden the area of their search. As well, the Family History Subject Specialists offer tours and a range of family history workshops for beginners of the Genealogy Centre and the Battye Library.
Much of the State Library's open access genealogy collection is located on the first floor near the microfilm reading area. Microfilm and microfiche sources are housed in labelled drawers. The Genealogy Centre is located on the 3rd floor. Volunteers from the Western Australian Genealogical Society are on duty from Tuesday to Thursday 10:00am to 1.00pm to assist readers in tracing their family history. A range of books, databases, and other material of use to genealogists is available in this area.