Archive Accessioning Systems
Archive Note System
From 1945 archival records were given an accession number to identify them and facilitate retrieval. Beginning with ACC 1 and continuing to ACC 3369 in 1989, accession numbers can contain a single item or multiple items ranging from a few volumes to thousands of files. As it was not possible to catalogue all items separately, Archive Notes (ANs) were compiled. These relate to a government agency creating records and list all documents contained in all accession numbers of that agency. For example AN 3 lists records of the Lands and Surveys Department so the listing for ACC 1657 L & S files is in AN 3/13, ACC 1672 L & S files is in AN 3/14 and so on.
For more information on the Archives Note System, please contact the State Records Office staff in person on the 3rd floor of the State Library building website; or by email: sro@sro.wa.gov.au, or telephone 61 8 9427 3600.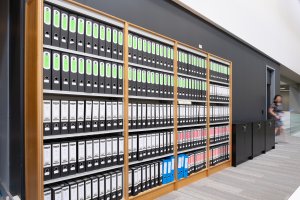 Series Registration System
In 1989 a new system, known as the Series Registration System was commenced by the State Records Office. This links each consignment of records belonging to the same series and then links each series with its creating agency. Each creating agency has an agency registration number, each series of records belonging to that agency has a record series number and each deposit of records belonging to a record series has a consignment number. So consignments 3463, 3902, 4116 and 4598 may belong to Record Series 942 which is created by Agency 61 and so on.
The consignment numbers in the Series Registration System correspond to the accession numbers of the previous system. To avoid duplication and confusion, the first consignment under the Series Registration System was given the next available number, so consignment number 3370 follows on from accession number 3369. Any records re-accessioned into the Series Registration System are usually given a consignment number which corresponds to its old accession number so ACC 2642 in the old system would become CONS 2642 in the Series Registration System.
Locating Government Archives
These can be located using the State Records Office online database, The Catalogue, or by using the listings of records kept at the State Records Office. To locate an archival record using these lists one can consult the Government Archives Agency Index (an alphabetical list of agencies showing the AN or Agency number associated with that agency), which is kept at the State Records Office Search Room. This Index lists all agencies which have transferred their records to the State Records Office. It may also list predecessor or successor agencies whether or not any of those records are held. Simply look up agency to find the AN or Agency number and dates covered. The listing of records held by that agency can be consulted to obtain Accession and Consignment numbers and volume or file numbers.
In recent years, the State Records Office has converted many of the record listings from the Archive Note system into the Series Registration System. This work is ongoing, with a view to ensuring all records in the State archives collection are listed within the Series Registration System and are searchable via The Catalogue.
The Catalogue
The Catalogue is the State Records Office online database, and provides information for the vast majority of State archives. The records, other than those identified as restricted access, are available for research in the Leah Jane Cohen Reading Room, on the 3rd floor of the State Library of Western Australia, Perth Cultural Centre, Perth, during opening hours.
The Catalogue identifies specific records in the State Records Office collection and the context/s in which they were created. It is based on the Series Registration System which was developed in Australia. You can use Simple Search (by keyword) and Advanced Search, which can be by agency (a broad term used to describe any Colonial, State or Local government organisation in Western Australia), record series (a collective name for a group of records which have the same origin), record item (an individual unit within a record series), function (a major area of responsibility, authority or jurisdiction assigned to or assumed by an agency) or activity (a part of a function).
The welcome aspect of this for the family history or biographical researcher is that in the simple search mode one can enter a name of a person and if that person's name appears in the title of any file or record indexed it will come up as a match. See Browsing and searching - Search tips for more information about strategies for locating records.
Restricted Records
Some archive records are restricted to the public. These restrictions have been authorised by the State Records Commission in accordance with the State Records Act 2000. There are various criteria used in the restriction of records and can include any legislative requirements, confidential or sensitive personal information documented in the records, medical information etc. Periods of restriction vary, depending on the content and context of the record. By law, all restricted access archives are required to become open access archives at a designated time. The public may also apply to access restricted access archives through the Freedom of Information Act 1992.
Staff of the State Records Office will advise on restricted records and on how to access them. If a record is restricted The Catalogue and the listings of records will contain a notation to that effect.