Convicts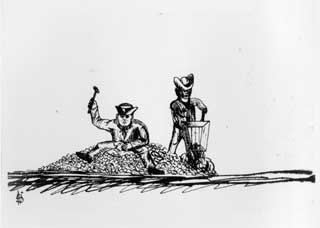 Sketch by William Stone - Convicts at Work 1867
1559A: Volume kept by the Rev. Frederick Lynch containing a list of convicts taught by him on board the Lord Raglan on the voyage to Western Australia 1858
Comments on scholastic prowess and gives name, age, where born, school, whether can read or write, religion, occupation, progress made.
2286A: List of convicts proceeding on H.M. Colonial Brig Amity to King George's Sound in 1826 and others to 1829
Provides name, ship arrived on, where and when convicted, sentence.
ACC 3780A-3794A: Western Australian Biographical Index Collection Convict Files
These are in alphabetical order and contain information used to compile Volume 2 of The Dictionary of Western Australians. Includes ticket-of-leave information (if found in ACC 1156 R Series) such as where employed and when, rate of pay, to whom employed, for how long employed.
Also see headings Convicts, Criminals, Fremantle Prison and Prisoners in Government Archival Records.