Aboriginal People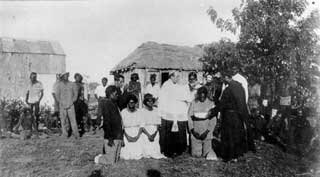 Baptising Aboriginal People
at Kalumburu Mission 1927
The United Nations has determined that the term Aboriginal people is the correct term for Australian and Canadian Aboriginal people only. Where possible this term has been used throughout this book. Aboriginal Australians may now find the terms "Aborigine(s)" or "Aboriginal(s)" offensive, so wherever possible the term Aboriginal person or people has been preferred. However, if those terms are used in the name of an Agency, or in a record series or item title, they have been left to preserve historic context.
New Norcia
ACC 1359A: New Norcia. Tree diagram
Shows Aboriginal tribal relationships with number, name, height and weight of Aboriginal people at New Norcia 22.5.1864.
Forrest River Mission
ACC 2389A/79: Forrest River Mission. Admissions and discharges 1961-1964
ACC 2389A/82: Forrest River Mission. Marriages and baptisms 1920-1928
ACC 2389A/83: Forrest River Mission. Births, deaths and hospital patients 1938-1939
Other Forrest River Mission records may also provide the names of Aboriginal people. For a full listing of records see MN 545.
Mogumber Mission
ACC 2582A/1-3: Mogumber Mission. Register of Baptisms 1954-1976 (Vol 1) and Marriages 1968, 1970 (Vol 2) and 1964-1976 (Vol 3)
Shows name, when baptised, when born and where, parents name, occupation and residence (for baptisms) and names, occupations, addresses, conjugal status, place and date of birth, parent's names (for marriages). This includes the staff of Mogumber as well as Aboriginal people. Mogumber records can be found in MN 172.
ACC 4444A: List of Aboriginal people and staff at Mogumber Mission 1948-1950
Compiled by Mr & Mrs A.E. Mort - see MN 1410.
The Uniting Church is currently indexing the Mogumber records for the names of all children who were at Mogumber. This index is kept at the Uniting Church Archives and is restricted. For access please contact:
Uniting Church Archives
91 Edward Street, Perth.
Post GPO BOX M952 Perth WA 6843
Email: archiveswa@wa.uca.org.au
Phone: (08) 9260 9800
Fax: (08) 9227 6416
Sister Kate's (later Manguri)
ACC 3179A: Sister Kate's (later Manguri)
Also ACC 4188A, ACC 4931A, ACC 4956A and ACC 6486A. The Battye Library holds an extensive collection of records relating to Sister Kate's, many of which will provide the names of Aboriginal and part-Aboriginal children who were there. Of especial interest would be ACC 6486A/5-284 – personal records and ACC 6486A/2-3 – admission registers 1940-1954 and 1956-1982. For a detailed listing of records see the collection listings MN 957srk Sister Kate's & MN 957 Manguri. All Sister Kate's records are restricted and permission to view must be obtained from the Uniting Church Archives.
Miscellaneous
ACC 2023A/68-70: List of Aboriginal people
Names of 49 Aboriginal people noted by Trooper Phillip Benjamin Watts in his notebook in the 1890s. Lists Aboriginal name and English alias if known.
ACC 3286A: Genealogies of Aboriginal people compiled by Helen Henderson
Names listed in MN 1053.
ACC 3769A: Biographical information on Aboriginal and part-Aboriginal people
ACC 4446A: Lists of Aboriginal people buried in various cemeteries
Cemeteries covered are Carnarvon, Collie, Cue, Esperance, Fremantle, Gnowangerup, Kellerberrin, Kojonup, Meekatharra, Mingenew, Mount Barker, Mount Magnet, Moora, Mullewa, Narembeen, Narrogin, Onslow, Pinjarra, Quairading, Roebourne, Southern Cross, Tambellup, Wagin and Woodanilling cemeteries (lists compiled by Mr & Mrs A.E. Mort - see MN 1410).
ACC 5320A/1-2: Research cards compiled by Anna Haebich, containing information on Aboriginal families
Access restricted. A list of records can be found in MN 1755.
Also see heading Aboriginal People and Missions in Government Archival Records.