Military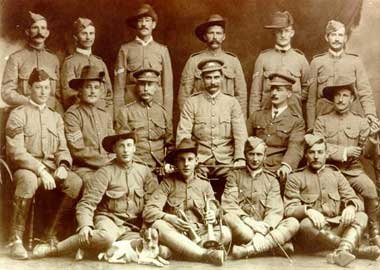 8th Battalion Australian Commonwealth Horse c1902
The booklet Our Military Ancestors compiled by Glenda Oakley provides references to printed, archival and manuscript records relating to the military in Western Australia. The references in Our Military Ancestors include materials in the State Records collections: Accession 81, 873/5, and 1123/1-34 (see AN 23 for details of these 3 accessions). Please contact the State Records Office to access these collections. Other records located which provide the names of military personnel include:
ACC 90: 1st WA Mounted Infantry. Casualty Book South African War 1900
Shows Regiment number, name, rank, nature of casualty, date.
AU WA S3638 cons144 1-2: Records of the Enrolled Guard. List of men in barracks at Fremantle and Perth 1881
ACC 587: Boomerang Club, London
Names of Western Australian visiting service men with messages 1942-1945.
AU WA S4404 cons1899 1: Subiaco City Council. Subiaco Honour Board. Enlistments for active service 1914-1919
Provides name, regimental number, rank, marital status, address of relative, battalion and company, notes if killed.
Listed in AN 23 are a series of records relating to the Western Australian contingents to the South African War (1st to 6th Contingents and the 1st West Australian Mounted Infantry), various volunteer forces and First World War company records of the following battalions and regiments: 11th Infantry Battalion, 28th Infantry Battalion, 11th Australian Infantry Regiment, 44th Infantry Battalion, 1st Western Australian Infantry Regiment and the Infantry Brigade of Western Australia. There are many nominal rolls and other records listing the names of members of these forces.
See also heading Volunteers in Government Archival Records and Military and Volunteers in Private Archives.