Liquor Licences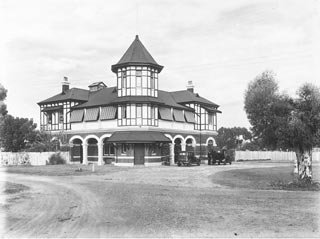 Hotel Waverley Cannington c1935
The liquor licensing laws of Western Australia were consolidated in the Licensing Act of 1911, which established licensing districts, licensing courts and described the various categories of licences which could be granted by the courts. A licensing court was established in every licensing district and consisted of three persons appointed by the Governor of which the chairman was a Police or Resident Magistrate. Licences could be granted for the following: publican's general, hotel, wayside house, Australian wine and beer, Australian wine, Australian wine bottle, packet, railway refreshment room, spirit merchants, gallon, brewers, eating house, boarding or lodging house, billiard table, temporary and occasional.
Some records were received from the Licensing Court in 1982. Especially interesting are the applications for various liquor licences 1859-1906 (except 1860, 1862-1863, 1877, 1887, 1895) - AU WA S2734 CONS 3294/1-32. For others check with the Licensing Court - see AN 18, and the State Records Office Catalogue (Agency 1558, Agency 1569, Agency 946 and Agency 947) for details.
Licences can also be located in the Police Gazette of Western Australia , in the Government Gazette of Western Australia up to 1885 and in local court and police station records (see AN 17 and AN 5 respectively, the Series Registration System, and search the State Records Office Catalogue by the name of the court or police station for details).
Busselton