Mental Health Patients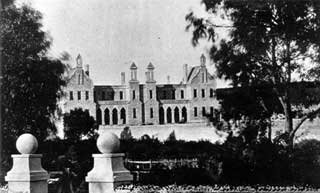 Fremantle Lunatic Asylum 1870s
In November 1857, ten mentally ill convicts were transferred from Fremantle gaol to a new asylum located in Scott's Warehouse. Fremantle Asylum itself was completed and occupied in July 1865. Prior to 1886 the Asylum was jointly administered by the Imperial and Colonial governments. In April of that year all Imperial patients, i.e., convicts, and staff were transferred to Colonial control.
In July 1897 Whitby Falls Annexe opened. Patients transferred there were classified as those who were capable of performing useful work, typically farming, and who could be trusted with a certain amount of freedom. Claremont Hospital for the Insane opened in August 1903 and the transfer of patients from Fremantle to Claremont took place between 1905 and 1909. Heathcote Mental Hospital was opened in February 1929 for the treatment of patients suffering mental and nervous disorders which were considered not serious enough for them to be classified as insane.
Many patient records of the various Asylums are held and are on restricted access. A complete listing can be found in AN 200, the Series Registration System or the State Records Office Catalogue, but the most useful are:
AU WA A543 Claremont Mental Hospital (cons1120, 3104-3114)
Address Books 1909-1921 (includes name, address, date of admission, next of kin); Case Books male 1903-1918; Case Books female 1908-1918; Admission Registers 1891-1906, 1909-1966 and military personnel 1917-1920; Removals, Discharges, Deaths Registers 1904-1969; Admissions Registers voluntary boarders 1941-1966; Report Books male 1904-1944; Report Books female 1908-1968. Also Attendants Daily Report Books (male and female) and Visitors Books.
AU WA A660 Fremantle Asylum (cons1120, 2677, 2723-2725, 2767-2769, 3098-3101)
Case Books male and female 1857-1860; Case Books male 1901-1909; Case Books female 1878-1860; Case Books male (chronic) 1901-1918; Case Books female (chronic) 1901-1908; Occurrence Books male and female 1859-1860, 1863-1865, 1869-1870, 1872-1875, 1877-1901; Admission Registers male and female 1857-1906; Admission Book colonial males 1857-1896; Admission Book colonial females 1858-1895; Register of Patients male 1857-1904; Register of Patients female 1858-1873; Register of Patients and Admissions male and female 1898-1901; Register of Patients and Admissions male 1894-1901; Admission Book males 1907-1909; Discharges and Deaths Register 1901; Removals, Discharges and Deaths Register 1904-1909; Attendants Daily Report Books male 1901-1909; Attendants Daily Report Books female 1901-1908.
AU WA A793 Heathcote Mental Hospital (cons3115-3116)
Patients and Admissions Registers 1929-1967; Removals, Discharges, Deaths Registers 1929-1914; CONS 5278 Registers of Final Discharges, Transfers and Deaths 1970-1986 (see AU WA S1759 Registers final discharges for listing); cons5279 Registers of Patient Admissions 1965-1990 (see AU WA S1758 Register patient admissions for listing).
AU WA A1223 Whitby Falls Hospital
Attendants Daily Report Books male and female – various dates (AU WA S2374 cons1120 76 & 78: Attendant Registers ); Patient Admission Register 1897-1965 (AU WA S2085 cons7110 1: Patient Admission Register) records date of admission, name of patient, sex, marital status, number of children, occupation, place of birth, address, religion, illness, date of discharge, status of condition, further observations; Patient Discharge Register 1904-1966 (AU WA S2086 cons7111 1: Patient Discharge Register) records date of removal, discharge or death, date of last admission, name, sex, status of condition on discharge, where removed, cause of death (if applicable), if post mortem was conducted, age at death, observations; Patient Address Register 1915-1965 (AU WA S2169 cons7113 1: Patient Address Register) – records name, date of admission and address; Visitors Register 1904-1970 (AU WA S2170 cons7114 1: Visitor's Book) records date of visit, name of patient, name of visitor, relation to patient and address.
General