Newspapers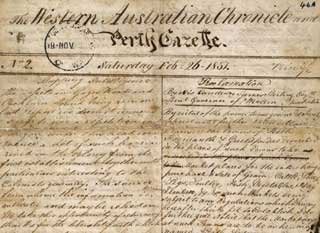 The Battye Library holds nearly 1,000 newspaper titles and has a good coverage of Western Australian newspapers from those produced in manuscript form in 1830 up to the present day. Some of the collection has been microfilmed, the remainder is available in hard copy (some bound). Bound newspapers may not be photocopied due to risk of damage, but it is permissible to take a digital photograph (without using a flash).
The National Library of Australia has digitised The West Australian 1833-1954, the Western Argus (Kalgoorlie) 1894 - 1896 & 1916 - 1938, the Western Mail 1885-1954 and the Sunday Times 1897-1954 (and various newspapers from other Australian States and Territories), which can be searched online. Further Western Australian titles may be digitised and added to the database.
All Western Australian newspaper titles are available on the State Library's online catalogue. To search for a newspaper published or distributed in a certain town, simply carry out a keyword search and enter as the keywords the name of the town and newspapers.
Newspapers can be useful for locating information about people. Information can be found in birth, death and marriage notices; obituaries; social columns; biographical articles; inquests and court cases; articles giving career details and details of awards etc. Some newspapers have been indexed (see Indexes and Catalogues), but if not, a rough date for any event or period for any person would be helpful in the tracing of such an event. Many of the early newspapers (especially in country towns) were only published weekly and generally were only four pages long, so checking through a few years for references to people is not an onerous task.