Oral History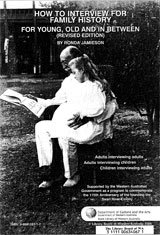 The recording of oral history commenced in the Battye Library in 1961. In 1975 an oral history program was initiated, the first established in any State Library in Australia. Staff were appointed to collect and process interviews and later to promote the medium and teach methodology. In 1989 an Oral History Unit was set up and staff carried out a limited number of interviews and transcriptions.
The Western Australian Branch of the Oral History Association of Australia, which was formed in 1979, took over the training and interviewing functions formerly carried out by the Battye Library when the Oral History Unit Coordinator position was abolished in 1998. However, the Battye Library still accepts and actively seeks donations of individual interviews or collections from others involved in the field. The Battye Library is a central repository and preservation medium for oral history in Western Australia.
The oral history collection consists of recorded interviews with people who are Western Australian by birth or migration. Interviews are held with men and women from all walks of life, Aboriginal people, politicians and many and varied occupations. Where access restrictions do not exist, oral history recordings may be heard via the online catalogue, or by request in the Leah Jane Cohen Reading Room. Oral history transcripts may be read in the library. The collection is an invaluable source of information, not only to the genealogist, but also to the social historian.
Access is generally by the name of the interviewee, although a great deal of subject indexing has been carried out which allows the researcher greater access to the tapes and transcripts. Many of the transcripts also have their own contents index. Oral history tapes and transcripts can be located in the online catalogue.