Australian Joint Copying Project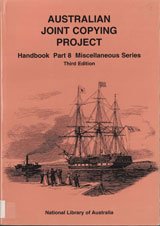 In 1939 the Commonwealth National Library (now the National Library of Australia) and the Public Library of New South Wales jointly made proposals for the copying of material at the Public Record Office (PRO) in London. The PRO is now called the National Archives. Due to the war, it was October 1945 before an agreement was reached whereby the microfilming of material relating to Australia held in the PRO could begin.
Filming began in August 1948 and for the first ten years the work of the project was confined entirely to the PRO, chiefly the Colonial Office. In 1960, the Australian Joint Copying Project (as it is known), came under the direction of Phyllis Mander-Jones and she concentrated on private records of Australasian interest throughout the British Isles.
In 1972 Manuscripts in the British Isles relating to Australia, New Zealand and the Pacific (016.99 JON) was published, which resulted in microfilm being produced of records located in many of the smaller and lesser-known repositories in Britain and Ireland. This publication is useful for subject access to the microfilm, as the handbooks do not allow this.
The handbooks produced are as follows:
General Introduction (part 1)
Colonial Office (part 2)
Home Office (part 3)
War Office (part 4)
Foreign Office (part 5)
Board of Trade, Treasury, Exchequer and Audit Department, Privy Council, Board of Longitude (part 6)
Admiralty (part 7)
Miscellaneous (part 8)
Personal Collections (part 9)
Dominions Office (part 10)
Australian Joint Copying Handbook. Part 11, Public Record Office, Classes filmed in the final five years of the Australian Joint Copying Project (part 11).
Battye Library attempts to acquire all microfilm which relates to Western Australia and the State Library has acquired most of the other PRO microfilm. However, few reels are held of the Miscellaneous and Personal series.
Gillian O'Mara, in Convict Records of Western Australia (929.1072 OMA), has produced a listing of documents relating to convicts which can be found in the various offices of the PRO. Following is a summary of material of Western Australian interest by handbook. A 2016 update of this book is available on the Friends of Battye Library Inc. website.
Part 1 shows which institutions hold which reels and also contains a listing of reels in numeric order with a brief description of the series.
Part 2 contains Governors' despatches from Western Australia to the Colonial Office. Governor's despatches can contain all types of interesting information (see section Governors' Despatches for more detail). In CO 323 (General Correspondence) can be found letters from offices (officials) and individuals to the Colonial Office and in CO 386 various emigration documents can be found.
Part 3 contains convict and criminal records, some of which relate to Western Australia.
Part 4 contains military records, some of which relate to Western Australia.
Part 5 contains no relevant family history information.
Part 6 contains some treasury information relating to convicts and some Surgeons Superintendents' journals of convict ships which came to Western Australia.
Part 7 contains Medical Journals for some convict and other passenger vessels which came to Western Australia.
Part 8 contains records of learned societies and institutions, individuals, missionary organisations, trading and land companies etc., some of which relate to Western Australia. This handbook does have a subject index in the back. More detailed listings of what is contained in each reel have recently been published. Also use Phyllis Mander-Jones' book (op. cit).
Part 9 contains the records of nine individuals in public life in England. Reels 6108-6109 contain information regarding convict management in Western Australia.
Part 10 contains mainly Dominion Office correspondence, but has material relating to Fairbridge Farm School, the Group Settlement Scheme and overseas settlement.
Part 11 contains records relating to the Admiralty, the Colonial Office, the Dominions Office, the Foreign Office, the Home Office and the War Office. Most of it does not relate to Western Australia although there are some muster rolls and pay lists for the 20th Company of the Royal Engineers stationed at Fremantle 1850-1862.
Please see our page about national archives and public records where you will find more AJCP information, tips, and tools for navigating around this immense resource.