Film, Video & DVDs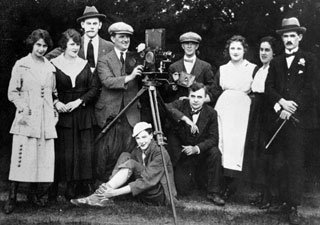 Fred Murphy & Film Company 1920s
The State Film Archives holds a collection of films, videos and DVDs relating to Western Australia. These may have been produced by government agencies, commercial companies or by individuals. Videos and DVDs are available for viewing on the 3rd floor, but as original film is stored in a cold stack, it needs to warm up for 24 hours prior to viewing. It may be that some original film cannot be viewed due to vinegar syndrome, brittleness, buckling or other factors which may damage the film if shown.
The earliest film in the collection is dated 1907. All films, videos and DVDs are available through the online catalogue. You can carry out a subject, author or keyword search, then limit to film & video.
Also useful is Kaylene Heard's Bibliography of pre-1950 film held at the State Film Archives of Western Australia (Q015.941 HEA). This is in three volumes - Volume I Private Collections, Volume II Government and Fairbridge Collections and Volume III Newsreels and other Commercial Film. At the end of each volume is a name index of people appearing in films. Each film is shot-listed, so the position of that person in the film and how many feet of film the appearance takes up are noted. All three volumes are available online.