Cemeteries
Western Australian cemeteries index [microform].
[Bayswater, W.A.] : Western Australian Genealogical Society, [1986?] -<1989?>.
[929.5 WES]
A set of microfiche indexes, in separate series, list burials at various cemeteries . They have either been transcribed from headstones by members of FamilyHistoryWA (FHWA), the Western Australian Genealogical Society, or taken from burial registers with the approval of the appropriate authority. The names are mostly listed alphabetically or chronologically within each cemetery or register (sometimes a name list showing page number is included at the beginning of each index). Information provided is usually the name of the person buried, date of death, age and sometimes details about the next of kin. These indexes are being added to by FHWA and a listing showing each cemetery and which series and fiche numbers relate to it is available. A further series correcting errors in series 1-12 has also been produced.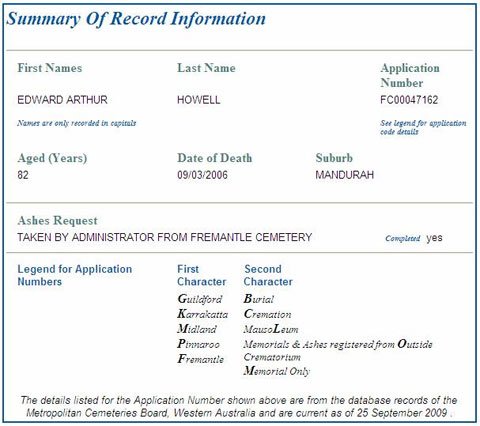 Metropolitan Cemeteries Board Record
Metropolitan Cemeteries Board Online Index
This online index, maintained by the Metropolitan Cemeteries Board, covers all burials and cremations at Karrakatta Cemetery from 1897, Fremantle Cemetery from 1898, Pinnaroo Valley Memorial Park from 1978, Guildford Cemetery from the late 1800s, Midland Cemetery from 1904 and the new Rockingham Regional Memorial Park from 2007. Entry is by the name of the person being buried or cremated. The index is arranged alphabetically by surname. Information given can include the name of the person, place of residence at time of death, area in which buried or cremated, plot number, grave type, grant number, age at time of death, date of death and application numbers.
The application numbers can often be used to establish family relationships as they can appear on different family member's entries, which means they are usually buried at the same site. By looking at ages and dates of death it is possible to establish whether two people were husband and wife or parent and child etc. The index contains many hundreds of thousands of names and is an invaluable genealogical tool.