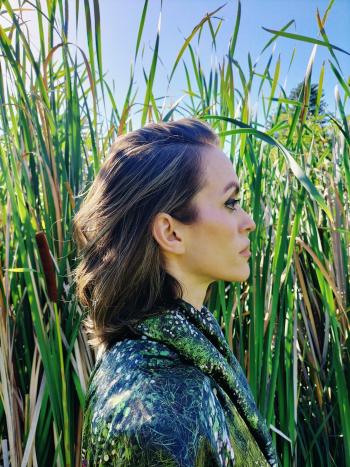 CLAUDIO (she/her) is Australian producer, vocalist, multi-instrumentalist and composer whose TEDxTalk & performance 'How to Translate the Feeling into Sound' has clocked over 1.9 million views.
While living in Paris for over a decade, she was globally recognised as one of the pioneers of live production performance with her viral cover of "'Hey Ya" in 2015 which was produced and performed entirely in real time.
CLAUDIO opened for Ableton's first & prestigious "Loop" conference that same year in Berlin, performing for an audience that included Jay-Z's sound engineer & Kanye West's sound designer; She has opened for The Roots, Mayer Hawthorne, Rhye & Common; headlined Dior's 70th anniversary at the National Gallery in Melbourne; played for the founding family in Pakistan; toured Australia, Spain, Italy, Germany, France, Brazil, South East Asia East Coast U.S. & the Baltic States.
In 2017, while pregnant, she worked with Latvian visual artist Martins Dabolins to create "To Kill an Empath" - a series of slow-moving concept films for "Luxury of Landscape" - an exhibition that took place in a 15th century palace in Florence, Italy.
CLAUDIO has arranged strings for Wong Kar Wai ('See You Tomorrow') & has performance and composition credits on the soundtrack of the Swedish-French crime thriller series 'Midnight Sun'.
She has produced/composed/written with many artists including soFly (producer for Sia, Justin Bieber, JLo, Doja Cat) & Antonio Gambale (composer of the Netflix hit series "Unorthodox").
Upon returning to Australia, she wrote, recorded and toured with Drapht.
CLAUDIO was a lecturer for the Contemporary course at the West Australian Academy of Performing Arts between 2016 and 2018, specialising in Creativity.
In 2021, she composed and created a feature-length interactive modular soundtrack for 'Whistleblower' by The Last Great Hunt - a cutting-edge award-winning West Australian interactive theatre company.
In 2022, she has composed for "The Great Un-Wondering of Wilbur Whitaker" - an Australian original theatre production by culturally-treasured company Barking Gecko Theatre.
CLAUDIO is fresh from her acclaimed seven night live soundscape residency at Perth Festival's "Sounds of Sunset" where she improvised two-hour long soundtracks in concert with the sun setting over the ocean.
There are no upcoming dates to display.
Unfortunately, this session is cancelled. As an alternative, you can join the Disrupted panel discussion Talking About Death Won't Kill You.